Stall and Spin Awareness, Prevention, and Recovery Training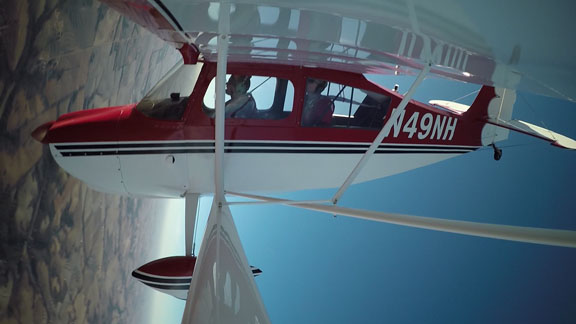 Nehemiah Aviation's Stall and Spin Awareness, Prevention, and Recovery Training is a comprehensive training program that can help you develop crucial skills to improve your flying abilities and flight safety.
This training program is intended for pilots at all levels, from Student to CFI, who want to improve their flying skills and fly more safely.  If you're interested in a flight just for fun, please check out our separate Aerobatic & Spin Ride.
What you get in this training program:
Comprehensive and thorough ground training on stalls and spins
Realistic stall and spin avoidance flight training
Rigorous advanced spin recovery flight training
Pilot In Command (PIC) time for Single Engine Land (SEL) pilots
Logbook entries/endorsements for all events
You'll also graduate this training a smarter, safer, and more confident pilot, with a knowledge base and skill set that will set you apart from your peers.
Notes:
You'll fly each sortie from the front seat of an aerobatic Citabria.
Your flight time for each sortie is approximately 30-45 minutes.
You'll wear a parachute throughout this program (included in rates).
After you complete the Course, you're entitled to reduced rates on future refresher flights — come back and spin anytime!
This training program is divided into two courses: Advanced and CFI.  A Refresher Course is available for pilots who have previously completed the program.
(In addition, a more fundamental course focusing on stalls and stall recovery is available upon request. This basic course is ideal for those who may desire more exposure to stalls, or who may have hesitation about stalls and recovery performance.)
The Advanced Course is your opportunity to see multiple spins and spin recoveries from realistic scenarios.  This course is an excellent way for every pilot to increase his comfort level in dynamic maneuvering flight, situational awareness, and confidence in stalls and spin recovery.  This is where you'll see those "normal" stalls develop into spins, and its also where you can intentionally spin…as much as you want.  You can learn more about this course here.
The CFI Course is a modified Advanced Course customized for CFI-applicants seeking their FAA-required Spin Endorsement.  With CFI-specific ground training and in-flight spin instruction geared to the Instructor level, this course is a must for CFI-applicants who want to be knowledgeable and confident in their ability to safely instruct their students through all phases of flight.  You can learn more about this course here.
The Refresher Course is an opportunity for Course graduates to return and revisit any aspect of Stall and Spin Awareness at a reduced cost.  Learn more about this course here.
Nehemiah Aviation also provides Upset Prevention and Recovery Training (UPRT) upon request.
Due to aircraft limitations, pilots must weigh no more than 210 pounds.
For additional information, view program Rates or Contact Us with your specific training needs.
Nehemiah Aviation serves Leavenworth, Lansing, Atchison, Gardner, and other areas in and around Kansas City.